Thermal Imaging is used by many people for a great number of reasons.  There are those that come in with a confirmed disease and monitor its progression, others with unexplained health concerns searching for answers, and others still who are perfectly healthy and who just want to make sure they stay that way.  Jessica assists all of these people by providing preventative education and action to improve their health and well-being.
Thermography, or Digital Infrared Thermal Imaging (DITI) is a totally non-invasive clinical imaging procedure for detecting and monitoring a number of diseases and physical injuries, by showing the thermal abnormalities present in the body. Very popular for monitoring breast health.
Thomas's international and national experience with Thermography & Naturopathy will assist in the detection of emotional distress, thyroid health, digestive and liver disorders along with aiding in the diagnosis or monitoring treatment in the following conditions:
Unexplained pain
Headache
Autoimmune conditions
Dental and periodontal disease
Vascular disease (including occlusive disease, deep venous thrombosis)
Back injuries
Identification of myofascial trigger points and tender points
Infectious and Inflammatory conditions
Neurological disorders
Stroke screening
WHAT IS THERMOGRAPHY?
Thermography, aids in the detection and monitoring of many types of diseases and physical injury.
There are a host of indications for medical DITI including monitoring breast health. DITI can assist in the diagnosis and evaluation of a large number of injuries and conditions. Many people undergo periodic whole-body screening because of thermographys ability to detect conditions and diseases before they become apparent on standard diagnostic tests.
Any individual with unexplained pain can also benefit from a DITI scan. Thermal changes are often the earliest sign of vascular disease, immune dysfunction, diabetes, thyroid dysfunction. It is also the earliest indication of systemic inflammation, a precursor to many diseases.
EXAMINATION
The procedure takes 20-45 minutes. Images are taken in a relaxed, private atmosphere by Thomas Staudacher N.D and his team. There is no touching, compression or radiation. It is completely safe.
To prepare for the exam wear loose clothing, no creams/deodorants/makeup. No eating/drinking hot/cold foods 2 hours prior. No sunburn,  no smoking 2 hours prior and no heavy exercise that day.
All images are interpreted by trained professionals and you receive a report with a full set of images with 2-5 working days. Thomas Staudacher N.D also provides follow up consultations in person or via skype.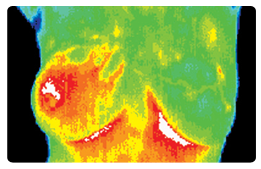 Make an appointment at our clinic at Geebung.